Hotel 'Janne' is a place for tourists and travellers who would like to experience unusual interior with elegant decorative elements and live for some time in a 100-year-old building with a rich history. Hotel was completely renovated in July, 2014 and the interior is very modern and up-to-date.

---
WELCOME TO OUR HOTEL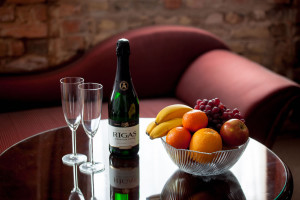 Hotel 'Janne' is a small and stylish place that offers you an affordable accommodation with a cosy and welcoming atmosphere.
PHOTO GALLERY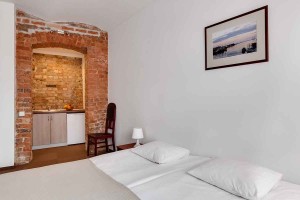 ---

This hotel is suitable for people from the periphery who are not able come to the clinic in the morning and register for the chamber. The rooms are very comfortable and tidy with nice beds and shower place. Have to mention that personnel are kind and helpful! Breakfast includes 20 tea brands and natural coffee without sediments, delicious sandwich with a tasty meat, as well as, two types of cereals with milk and fresh fruits with yoghurt.

the Hotel 'Janne' has very warm, kind and helpful personnel. There is always peace in the room, excellent heating system and it should be mentioned that coffee and 20 different brand teas are there for free. Location of the place is very good, especially for those who should be treated in the Pauls Stradins Clinical University Hospital, if there are not free chambers. Certainly, I will use Hotel 'Janne' services in the future, if it will be necessary.